If it's your kids been invited to a birthday party and you have no idea what to buy here are some basic suggestions. Keep in mind that when shopping for kids you're going to have to follow the latest trends. We know that shopping for kids is never easy. After all they grow up so fast. It seems like one day they're interested in Hockey and the next they're going on dates. However if your kids are still that magical age where they don't know how to drive and they still play with preschool products they might like some of these gifts. Each of this gifts were chosen based on their popularity, quality, and brand. We only wanted to recommend the best party gifts for kids Toddler toys.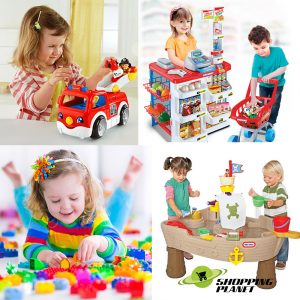 #5 Crayola Color Wonder Sound Studio
One of the most popular gifts for kids is the Crayola Color Wonder Sound Studio. In fact this gift is actually one of the best selling gifts this holiday season. The majority of people who buy Color Wonder products have been long time fans. This sound studio is a neat twist and it turns out that the majority of parents like it. The package includes a sound studio drawing board, 12 color wonder pages, 6 blank wonder pages, 5 miniature markers, and six sound cards.
Each of the sound cards include ten sounds on them with a different theme. The themes included are Jungle, City, Dinosaur, Music, Farm, and Beach. What happens is that while your children are coloring the canvas will make wonderful sounds. It's a great way for introducing your children to art at a young age. The best part about this gift is that it's educational. It will help develop your kids imagination and their sense of creativity.
#4 Blokus Classic Game
Blokus is one of the best selling board games of all time. The game is a strategy board game that focuses on spatial reasoning. The best part is that Blokus encourages creative thinking. The game has even received several awards including the Mensa award for promoting healthy brain activity. The premise of the game is extremely simple. Each player must place each of their pieces onto the game board. When placing a piece it must not lie adjacent to another players piece. On top of that the piece that your placing must also touch the corner of one of the pieces that you've already played on the board.
The player who gets rid of all their pieces first is the winner. Overall we don't think you're going to get a better board game than this. Even though the game is simple and easy to understand. The complexity is soon revealed to players after they begin playing. The game is especially addicted to those who like playing abstract games.
#3 Illustory Make Your Own Story Kit
How would your kids like to be published authors? With Illustory your kids can do just that! This award winning kit allows future authors to write and illustrate their very own stories on the book pages provided in the kit. This kit is perfect for nurturing a child's enthusiasm, writing, and illustration. What we liked the most about this toy is that it will help spark an interest in writing. After all English is a major part of any career that your child might choose.
All your kids have to do is write their own book then send the manuscript with the included paid postage. The production time is approximately only 3-4 weeks time. Also your kids could choose to create their book entirely online. The Illustory Make Your Own Story Kit includes 18 special book pages, 2 cover pages, 10 washable markers, story web planner, instructions, order form, and a prepaid envelope.